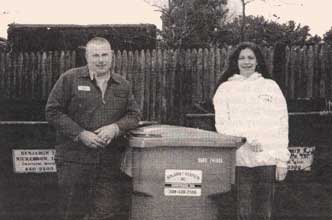 Benjamin Nickerson and
Pamela Nickerson
Ben T. Nickerson | and Family
BENJAMIN T. NICKERSON, INC.
Trucking * Rubbish Removal
149 Commerce Park East
South Chatham, MA 02659-1434
P.O.Box 1268
West Chatham, MA 02669-1268
508-430-2500
"Raccoons can get in, but they can 't tip it over." Ben Nickerson is talking about the roll carts that his rubbish removal company now offers their customers. "They're a convenient size, they can be stored wherever you want in your yard, and they're an easy pick-up for our guys." A roll cart (pictured with I Ben and Pam above) is just one of the many services this established family-owned company offers. Ben and his sister Pam have learned to keep current on the latest trends in the rubbish and recycling business and like the tenacious raccoon who tries to get into our garbage container, you can depend on Benjamin T. Nickerson Inc. to be there every day.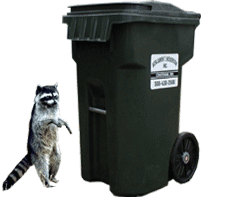 Ben and Pam's father, Benjamin T. Nickerson, began driving a garbage truck in 1969, bought the business in 1970 and his children began their acquisition in 1997, becoming sole owners in 2001. "You probably never even noticed the change in ownership; Dad stills drive a truck and does pickups. Though I fired Mom," Pam laughs. "She used to work here in the office but she needed a chance to do something else." So Pam is in charge of the office answering the phone and handling all the paperwork, while "Ben is 'out in the field' supervising the guys and driving a truck. It's a real family affair, my 15-year-old twins Caleb and Benjamin helped out on a truck this summer."
"We run trucks seven days a week. We check every day and dump when a container is full. We never charge extra for 'back yard service' and recycle too," Ben tells us. Benjamin T. Nickerson has over 600 year-round residential accounts, a number that swells in the summer to 1,800 and more. "We also do most of the restaurants in town, offering full recycling with containers for the different colored glass, tin and cardboard. In the summer one employee will spend at least three hours doing glass," Ben says when commenting on the

changes in the rubbish removal business. One thing that hasn't changed is the familiar green trucks pulling in and out of the town's businesses in the early hours along Chatham's main thoroughfare. "Main Street is done first thing, then we branch out to the other accounts. A typical day starts around 7:30, 8 o'clock." Their full time drivers Steve Livesey and Paul Giannelli are an everyday sight along with Ben Sr.'s smiling face in this seaside town.
"The old man never left town," Ben smiles. "But now we do have a couple accounts in East Harwich." It makes sense to pass on calls from nearby towns to local businesses in that area as a professional courtesy. "We try to keep most of our business in Chatham, it just makes sense to give better service that way." Pam says.
Please note Benjamin T. Nickerson, Inc., whether it be their roll carts or your bin, never charges a 'behind the house' price versus an 'at the street' price, and we don't make you sign a contract ... so try us out! Pam Nickerson says enthusiastically. Call today and attain that personal service that only a small town, family-owned business can offer.